Beep-bop-beep: The Top Five Free Science Fiction Sites On The Web
Sometimes, after reading all those 'literary' magazines like the Kenyon Review and Tin House, you start to get sick of stories about real life.  I don't want to read about little Timmy's encounter with the divorce lawyer, you tell your spouse, I want to read about alien space pirates!   (Not surprising, she gives you a strange look.)
If you've been craving some science fiction, then search no further:  here is a compilation of the top five free sci-fi sites on the web.
5. Daily Science Fiction (www.dailysciencefiction.com)
With over two hundred free stories—all speculative, of course—this magazine is sure to have something that tickles your fancy.  If you become a dedicated reader, consider donating to their Kickstarter.  It ends in a couple days, and all the proceeds go towards paying writers!
4. Fiction Vortex (www.fictionvortex.com)
Despite launching only a few months ago, Fiction Vortex has taken off quite impressively.  All of their published stories are free, and many of them are plain genre-bridging awesomeness.  After you've read a couple stories, make sure to vote for your favorite in their monthly Reader's Choice Awards.
3. Waylines (www.waylinesmagazine.com)
Although all the magazines on this list make great reads, this one also provides an excellent viewing experience.  You see, Waylines offers speculative fiction in the form of stories and short films.  I know you're skeptical, but check out K-Michel Parandi's "From the Future With Love."   It's a very cool film that creates a dystopian future with a corporate police force.
2. Flash Fiction Online (www.flashfictiononline.com)
Ignore the boring name.  This site is chock-full of fantastic stories that are the perfect size for that otherwise useless ten minute coffee break.  In fact, I'd rank this magazine higher if the editors didn't also publish other genres (like fantasy and, god forbid, literary). But, considering that this is a science fiction list, I'm afraid I can't do that.
1. Perihelion (www.perihelionsf.com)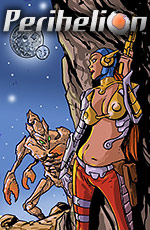 An absolute treasure trove of all things futuristic, Perihelion offers its newest issues online for free viewing (print issues are also available for purchase).  This is hardcore sci-fi at its best: the submission guidelines states that "the science and/or technology must be integral to the story."  Woo yeah—this is as good as it gets.  I recommend Tom Doyle's short story, A.I. Oh!, which is one of the funniest pieces I've read in a long time.
If you haven't noticed, we do like the occasional sci-fi piece here at Decades Review.  Feel free to submit one!
Connor Cook, Decades Review Prose Editor